ECOSAK

(Engineering College Old Students Association Kakinada)

President Secretary

Dr. K. Satya Prasad Dr. P. Udaya Bhaskar

Ph. 0884-2366356 (O) Ph.0884- 2350682(R)

0884-2351502 (R) Mobile:9848231304

Hony. President Treasurer

Gp.Capt. M.S.Bose(Retd.) Dr. V. Ravindra

Ph.0884-2387792(R) Ph. 0884-2383623(R)

Mobile:9849414866

Vice-Presidents

Dr. E.V.Prasad

Ph. 0884-2376029(O) Jt. Secretary

Mobile: 9849572172 Er. G. Praven Babu

Er. I.Ramprakash Mobile: 98480 94714

Mobile: 9849744448

EXECUTIVE COMMITTEE

Er. G.Butchi Babu, Ph. 0884-2344624

Er. R.M.M.Krishna, Ph. 0884-2345499

Er. P.V.G.K.Jagannadha Raju, Ph.0884-2368615;Mobile:9848499693

Er. K.Satyanarayana, Mobile: 9440812586

Er. G.S.N.Murthy, Ph.0884-2357555

Smt.V.Aruna Rekha, Ph.0884-2346268

EXECUTIVE COMMITTEE Members from FACULTY

Dr. S.Srinivas Kumar, Ph. 0884-2379787;Mobile: 9440144987

Dr.G.Yesuratnam, Ph.0884-2371412(R);Mobile:9848373238

Dr. J.V.R.Murthy, Ph.0884-2361832(R);Mobile:9440445995

Er. N.Mohan Rao, Ph. 0884-2379356;Mobile:9829340437

Er. R.Kameswara Rao, Mobile: 9440104500

Dear Alumnus,

ECOSAK (Engineering College Old Students Association Kakinada) is meant to recall the reminiscences of the golden days you enjoyed, to recollect the memoirs with friends, who were class-mates, seniors or juniors whom you are going to meet after a long time, share your experiences in different walks of life in search of livelihood, name and fame, since you left the portals of the college to enter the world as a responsible citizen, will be enriched by your enthralling presence. It will also impose a sense of pride and confidence in the young minds of present generation of students when informed about the pedagogy they inherited which will continue to enhance the glory of the college as well as themselves. The Annual General Body Meetings are arranged regularly on first Sunday of January every year.

The college, in the recent past added a second postgraduate course in each of the five engineering departments. The college has also become an active center for research with a large number of Ph.D. students. A few buildings have emerged in the recent past and a few more are in different stages of construction. In spite of all this growth, the College is having its own drawbacks or deficiencies. In this direction the alumni of the College are contributing their might for the development. The Alumni Association has constructed a guest house "Alumni Hall" (150 Sq.m) from its own funds.

In this direction, a multi-utility building (Swarnastov Bhavan) (500 Sq.m) was constructed during the Golden Jubilee at a cost of about Rs.20 lakhs with donations of the alumni

d

uring 1995-96 which is housing "

Placement Office" and "MANA TV". One batch of students admitted in 1973 celebrated their silver jubilee of admission here, by bringing their families and spending two days on the campus in 1998. A few more batches delighted all of us by sharing their memories during the last one year. Another batch expressed their desire to be here next year.

In the last general body meeting, it is proposed to raise an amount of minimum Rs. 2 crores from the alumni as a contribution to partially meet the expenditure for the construction of a new modern A/c Auditorium for the college estimated to cost around Rs. 4 crores. The Vice - Chancellor has promised to grant the balance from the university funds. During the last one year, the efforts made to collect the funds were of no significant consequence.

Much of the efforts were concentrated to establish the contacts with as many alumni as possible. We are only partially successful in our efforts and a lot has to be done even in this direction. However, we are able to establish certain useful linkages. The Diamond Jubilee year is on, and it is the time to respond quickly and make the Diamond Jubilee Celebrations during 2005-2006 a grand success.

Mr.Bhaskara Rao Mutyala (1957-61 Mech.Engg.) who is settled in Houston, Texas volunteered his help in collecting funds for our Auditorium Project from the alumni who settled in U.S.A. He met JNTU Vice-Chancellor and Registrar and got a commitment from them and the Registrar issued a letter accordingly. We sent few appeal brochures through Mr. Bhaskara Rao for our alumni in U.S.A. If you did not receive the brochure or if you want to help in reaching our ECOSAK family, please get in touch with him at the following address:

12 Lake Mist Drive

Sugar Land, TX 77479

(281) 240-6767 (Home)

(832) 483-4545 (Cell)

Mr.Bhaskara Rao Mutyala told us the following are helping him at this time:

1) Dutt Bulusu (1957-61) Philadelphia area.

2) L.B.Reddy (1958-62) Chicago area.

3) Srinivas and Bhavani Koneru (1987-91 and 1989-93) Detroit area.

4) Chitten Raju Vanguri (1961-66) Houston area.

Also please help us reach our ECOSAK family as informing those whom we may not be able to or communicating the addresses of those you know. Your participation this year will help in planning and executing the Diamond Jubilee with glory.

Come, be a part of this cherish able sentiment of attachment and reunion. Hoping that you will not disappoint for the Diamond Jubilee Celebrations.

President

Contributions:

Ø Sri. Murali Mohan. Narasipuram, an alumnus has instituted a cash award of Rs. 18,000/- every year at the rate of Rs. 2000/- each for the best outgoing student (five engineering branches for regular and four for part-time).

Ø Sri. Turaga Chandrasekhar, an alumnus has also instituted a cash award of Rs. 12,000/- every year for the Best Teachers judged by the students at the rate of Rs. 2000/- for each of the Engineering Branches and Non-Engineering Department.

Ø Prof. V. Sreeramulu, an alumnus of the college has donated Rs 1.00 lakhs as corpus fund for awards to Civil Engineering Students.

Ø Prominent Alumni from Industry are invited to deliver lectures on various topics to have interaction with the Institute.

Alumni achievements :

Ø The prestigious Padma Bhushan award was conferred on Sri. K. Vara Prasad Reddy, CMD, Shanta Biotech, Hyderabad.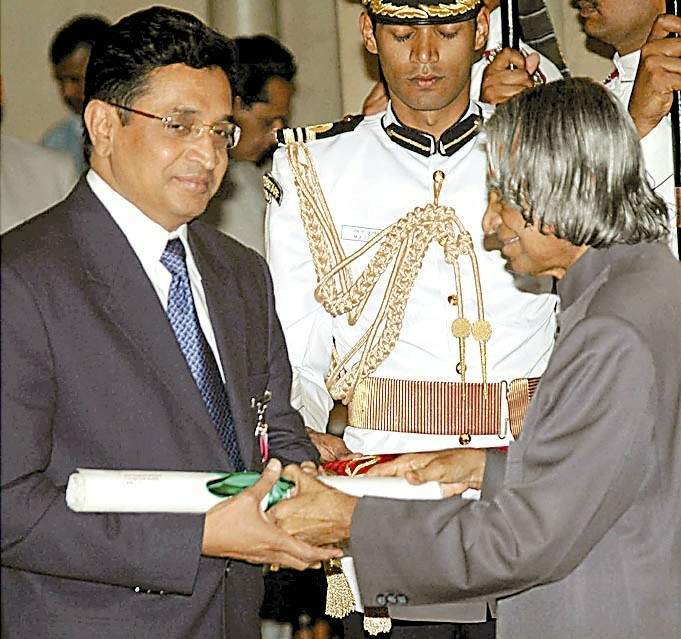 Receiving Padma Bhushan award from the President, Dr. A.P.J.Abdul Kalam
Ø Sri Y.Siva Sagar Rao ,CMD, Vizag steel plant was conferred Rajiv Ratna award for the best CEO. (1963 -1968 batch )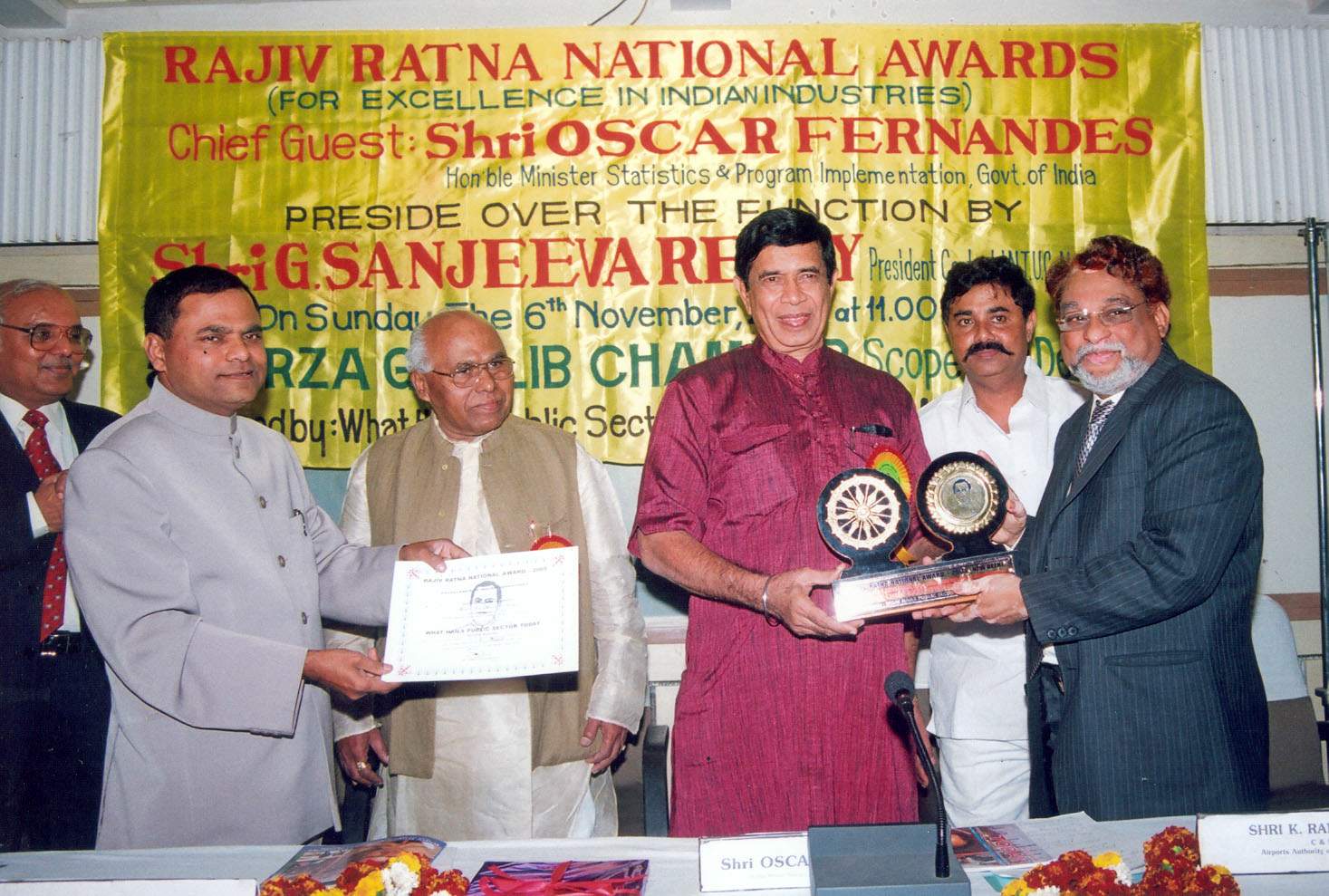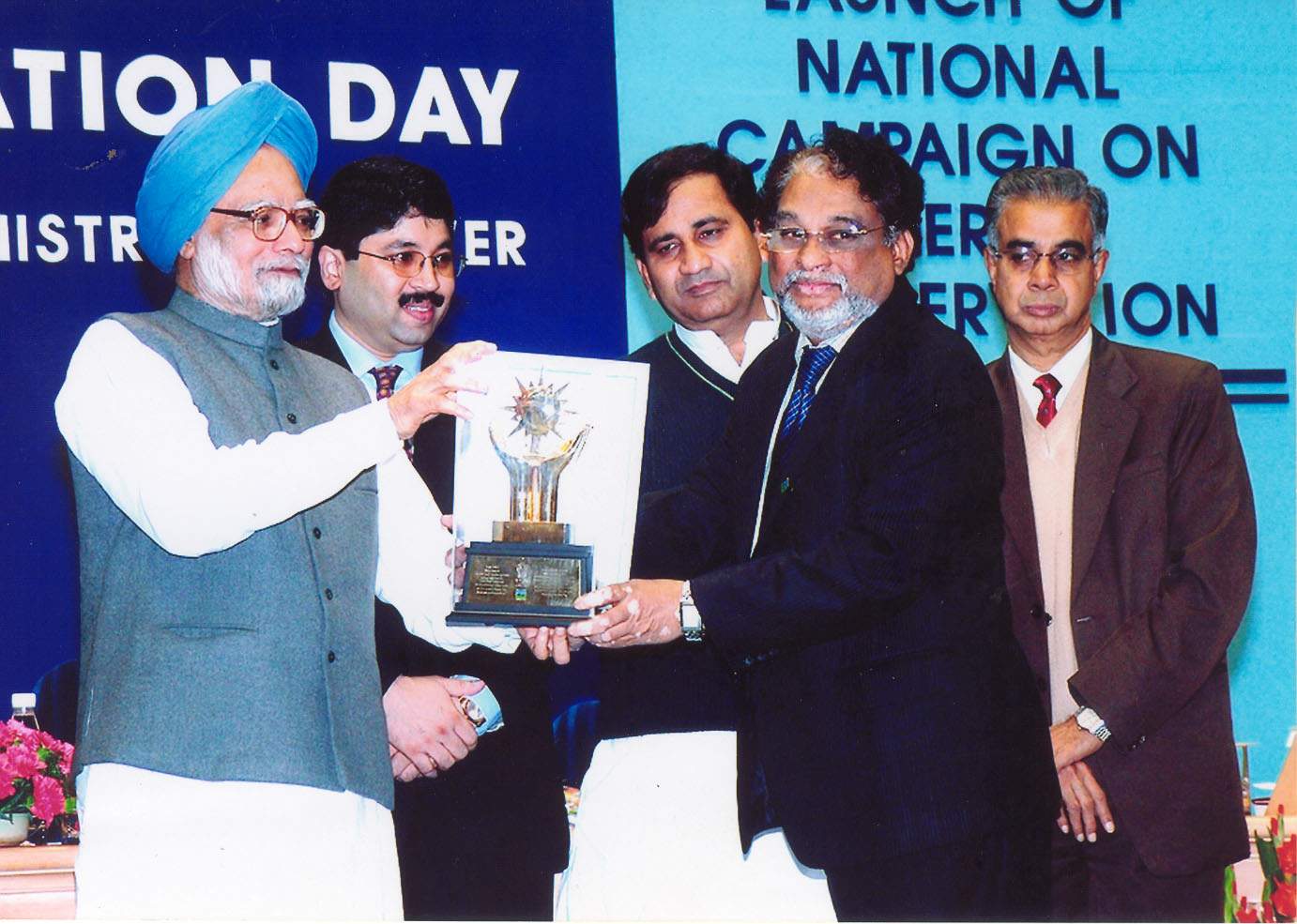 Receiving Energy award from the Prime Minister, Dr. K.Manmohan Singh
Ø Dr.A.Sreerama Rao, Professor in Civil Engineering (in service) received the prestigious Andhra Pradesh state "Best Teacher" award on 5th October, 2005. (1963 -1968 batch)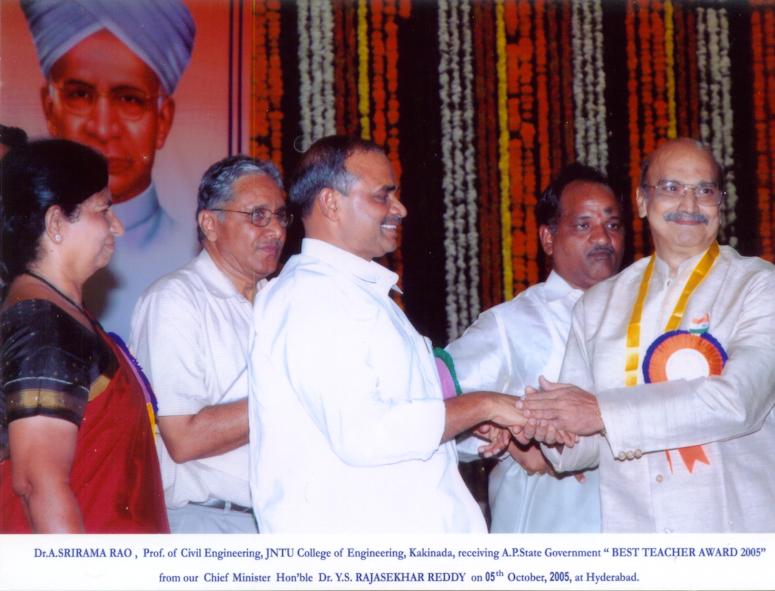 Receiving AP state "BEST TEACHER" award from the Chief Minister,
Dr. Y.Rajsekhara Reddy
Renowned alumni :
Note: Information regarding highly placed alumni may be pleased be sent to the Principal for additions to the below list.
| | | |
| --- | --- | --- |
| S. No. | Name | Organization |
| 1 | Dr. V. Kulandaiswamy | Former V.C., IGNOU & Anna University |
| 2 | Er. AVM N.S.Sastry | VSM, IAF. |
| 3 | Er. M.V. Raghavaiah | Former M.D. Vizag Steel Plant |
| 4 | Dr. G. Satyanandam | Director, Georgia Inst. Of Tech., |
| 5 | Dr. N. J. Rao | CEDT, Chairman Mgf. Studies. |
| 6 | Er. R.S.S.L.N. Bhaskarudu | Former CEO, Maruti Udyog Ltd., |
| 7 | Er. T. Narayana Rao | Software Industrialist, Hyderabad. |
| 8 | Er. B.V. Mohan Reddy | Immediate Past President FICCI |
| 9 | Er. B. Satyam | Co- founder and Chief Technology Officer Netsilica.com, New Jersey, USA. |
| 10 | Er. M.Krishna | CMD, Honeywell, Bangalore. |
| 11 | Er. Sreedharan | CMD, Delhi Metro Rail Project, NEW DELHI,Former CMD, Konkan Railway, NEW DELHI |
| 12 | Er.Y.Siva Sagar Rao | CMD, Vizag Steel plant, Visakhapatnam. |
| 13 | Er.K.Vara Prasad Reddy | CMD,Shanta Biotech, Hyderabad. |